The prospect of working from home can be a bit of a treat (sometimes) but there are a few pitfalls to be aware of so that you don't end up with pesky aches and pains! Not all of us are lucky enough to have an ergonomic setup from our sofa but there are many things you can do at home to get that comfy work set-up.
First things first let's get off that sofa and onto a dining chair. If you don't have any alternative to the sofa your wrists, eyes, neck and back will be very strained. Make sure to take lots of breaks to get up and walk around.
Now you're sat at a table and on a sturdy chair (preferably with arm rests) we want to make sure you are as comfy as can be.
Try supporting your lower back with a small cushion. This will sit at the base of your spine and act as a support.
Your legs should be at around 90 degrees but slightly higher is better. Not everyone is lucky enough to have tilting dining chairs but we can use another pillow to sit on that will tilt our legs to 100 – 110 degrees. This pillow should go under our bum so we get that height increase we are looking for.
Next we want to make sure our feet are firmly on the floor. If only your toes are touching then get a small box so your feet can rest and take the strain out of your lower back.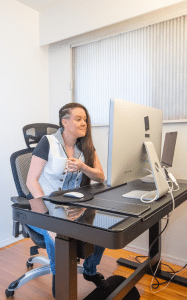 Ideally you would use a mechanical keyboard. This will allow you to lift your screen off the table, which you can do by using some old books. The top of your screen should be level with your eyes and about 30-40cm away from you to prevent too much eye strain.
Using a wrist support will also remove strain while typing or using your mouse. This means you can type and work for longer without hurting (lucky you)
If you still feel achy after following all these steps then check out one of our other blogs for gentle exercises to do at home or even look at changing up your chair.
 Tristan White