Please be advised this article does contain some sensitive issues. 
"Although my story isn't a nice one, it's my story, and I am proud of it."
Matthew 'Panda' Smyth is a multiple-record holder and IAWA Champion, he also lives with hip and knee dysplasia. Matt currently holds the title of England's Strongest Disabled Man and his list of sporting achievements is impressive but life hasn't always been this way for the strongman. 
We first met Matt when he came to us for shoulder rehabilitation after an injury. Since following his journey we realised he had a real story to tell and with his permission, we are sharing that with you.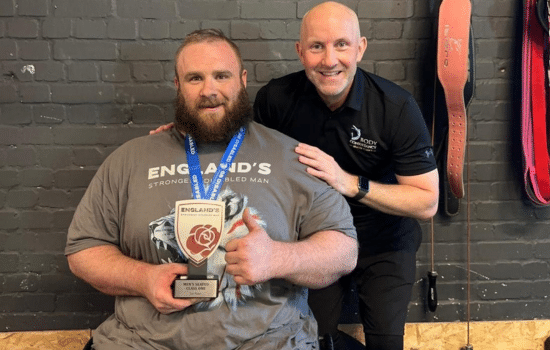 Where it all began
Today Matt is recognised as a heavy lifting strongman but he tells us 'It wasn't always this way. I used to be completely different. My first struggle wasn't with physical disabilities, more mental." 
At just 9 years old he was diagnosed with depression and prescribed anti-depressants which he believes has attributed to his struggles with his mental and emotional growth, something he still battles every day. Matt also found himself the victim of bullying at school resulting in him engaging in self-harm, and at the age of 13 made his first attempt of fifteen to take his own life, 'I couldn't see a way out at all' Matt told us. 
During all of this Matt was also experiencing severe and debilitating pain in his hips and knees which was sadly dismissed as 'attention-seeking' due to his diagnoses of depression and emotionally unstable personality disorder. "I learned unhealthy ways to cope, I learned how to ignore pain, how to ignore being tired, how to ignore facing overwhelming odds." 
Everything changed
Life for Matt soon took a turn for the better after a trip to a specialist orthopeadic hospital in London. He recounts his time with the doctor, "He took one look at me, asked me to bend in a few ways, and said what I have wrong with me, and changed everything. After that, things were looking up." 
Having turned to food as a comfort Matt had gained a significant amount of weight and so began a programme of healthy eating and swimming, alongside wearing a leg brace, to improve his mobility. 
He also discovered he had injured his back, damaging a vertebrae, and became a part-time wheelchair user. Matt was soon invited, by a now good friend, to join a wheelchair rugby team, "[after my first session] I then went home and binged watched the 2012 Paralympic games of wheelchair rugby. I fell in love with the sport." 
After a couple of months of playing the contact sport, he sustained a serious injury, tearing his rotator cuff, sustaining a 360-degree labral tear, and breaking the shoulder socket on his right arm. After months of rehab Matt decided to move to wheelchair basketball but soon found himself back on the rugby scene after being invited to play for Southampton's wheelchair rugby team, "I loved it, being back in a chair, with good people and players, we did really well. I did one training session before being told I can play in a tournament that weekend. It was bliss." 
Sadly after sustaining a neck injury when tackled out of his chair during a match, Matt decided that he could no longer play contact sports. And so began his journey to becoming England's Strongest Disabled Man… 
Strength to strength
A good friend of Matt's, a Paralympic athlete, noted that his build, size, and aggression would be perfectly suited to seated shot put. Instantly Matt agreed, "Me being me I thought, hey, let's go throw a cannonball, sounds nice and safe!" 
Along the way Matt met amazing people and progressed quickly, heading to the gym to build his strength, sights firmly set on competing in the Paralympics. Another injury stopped him in his tracks, however, Matt told us, "The difference this time was I knew what I was doing, I knew what I wanted. I decided to recover faster, and get back to it." 
Even lockdown in 2020 couldn't stop Matt. Worried he would lose his drive, ambition, and motivation he purchased a set of dumbbells and a weight bench, working out 2 hours a day to maintain his strength and passion! 
Before Matt knew it he was looking into Strongman competitions for those with disabilities and soon found himself talking to the founder of Britain's Strongest Disabled Man and training with him in Somerset. 
"April 28th, 2021, I had my first strongman session seated deadlift. On my first session, I topped out at 220kg (only because we couldn't be bothered to load the bar with more weight) and threw a 110kg stone around for reps. I was hooked. I was addicted. From then on, my life's goal was to become the strongest disabled man in the world." 
The only way is up
Matt's first Strongman competition saw him placing 3rd, an amazing achievement – he cried with happiness, it was such a proud moment. 
Over the next year Matt would go on to consistently place in top positions including becoming British Champion at an adaptive powerlifting event (he set 4 records in a single morning!) 
One competition, Arnold's, saw Matt smash his goal of lifting 600kg or more in the deadlift event, "600kg flew up like it was nothing." He went on to lift 625kg but his lifting strap broke pulling his left shoulder out of its socket! It's at this point that Matt came to see us here at Body Consultancy, we worked with him to rehabilitate him after the shoulder injury and improve his strength. 
After working with us Matt took on a new coach, pushing himself to the limits and getting results. He would go on to compete in England's Strongest Disabled Man – the big show – winning three out of five events and setting a new record for axle press overhead at 130kg. 
"That leads us to where we are now, from a suicidal person with no will to live, to a multiple record holder, England's strongest disabled man, and IAWA British champion." 
Matt's story has truly inspired us, through real grit and determination and taking
responsibility for his health, he has succeeded against tremendous odds. We're
so proud that we are part of his story and wish him every success in his future
strongman endeavours!
You can follow Matt on Instagram to keep up with his latest competitions.