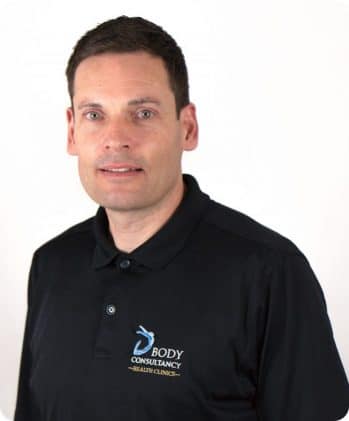 Warren Dickinson
Chiropractor and Clinic Director
I really enjoy what I do! There's no better feeling than knowing you're helping people to achieve their goals – whether that's playing football with grandchildren or getting back to a team sport. And effective treatment rarely just deals with the short term pain. If the aggravating factor is still there, the patient may be back again – so it's about retraining the motor patterns to reduce the chance of that happening.
I graduated from the University of the West of England, Bristol in 1992 with a BSc (Hons) in applied biological sciences, specialising in human physiology, medical microbiology and haematology. After travelling round the world I went on to study at the Welsh Institute of Chiropractic where I graduated with a BSc (Hons) in Chiropractic.
After working as an associate chiropractor for thirteen years in Newcastle I set up my own practice in Portchester. While building it up I was invited to help at Body Consultancy. That led to becoming a partner with Mark, and the Portchester clinic is now under the umbrella of Body Consultancy.
I work hard to keep my skills and knowledge right up-to-date with a minimum of thirty hours of CPD a year. I also sit on the BCA Professional Standards Committee.
When I'm not at work I enjoy kite-surfing and road cycling. I also have a motor bike and am very happy to spend time 'spannering'.
BSc (Hons) Applied Biological Sciences
BSc (Hons) DC Doctor of Chiropractic
DNS 1 Dynamic Neuromuscular Stabilisation
Member of the British Chiropractic Association
Member of the General Chiropractic Council